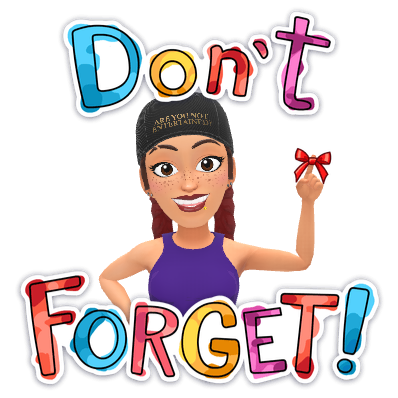 Allison's Take:
When you hear the word "habit", you usually think of a bad habit. A guilty pleasure even.
Habits tend to be thought of as negative. Biting nails, procrastination, sleeping in, eating fast food, and even negativity are a few of the most common. They are the reason people make resolutions. To attempt to combat that habit. To change their lives by changing the "bad habits" they have developed. But what do we know about resolutions? Yup. They are hardly ever followed past January. As we get ready to start our new school year, I've been thinking about some things I want to change this year (some "bad habits" if you will…)
In order to change, or get rid of a bad habit you may just decide that you're not going to do it anymore (bite your nails, show up late, etc.). Ya, that might work, if you're determined and focused enough. But lets be honest, if you were really that determined and focused would it have become a bad habit in the first place? Probably not. So I think one of the biggest ways to "break" a bad habit is to figure out why you're doing it in the first place. Why do you bite your nails? Probably not because they taste so delicious, but more because you're stressed. Why are you consistently late? Let's be honest, NOBODY likes walking into a room/meeting/situation late. It's super uncomfortable and makes you feel bad. So why are you late? Well, if you're like me, it's because for whatever reason I tend to think that things won't take as long as they do. (Also known as 'I lie to myself daily'… )"We can be out of the house in 10 minutes!" "It will only take a few minutes to get the kids dressed" "Last week I made it to school in 7 minutes, I don't have to leave yet!"
In order to change those bad habits, you have to replace them with something else. Find another way to de-stress other than biting your nails. Take a warm bath, read a good book, focus on deep and calming breaths, practice yoga, work out. Whatever it takes! Having a hard time getting ANYWHERE on time? Plan for the unexpected… (especially if you have kids like mine, who can NEVER find shoes 10 minutes after I ALREADY put them on their feet. And for whatever reason walk to the car in sloooooowwwwww motion) Set an alarm for earlier, not only pack lunches/backpacks the night before, but actually put them in the car, set an alarm to start loading the car 10 minutes before you actually need to…
So in summary, figure out the reason for your bad habit, and replace it with a good one. It will take time, and effort (and LOTS of alarms sometimes!), but it will not only totally be worth it, but you'll be setting a great example for those around you…
Lezlie's take: 
The last two blogs were about discipline and routine. Here we are at school time so it's time to develop some GOOD habits. But first, I have to analyze my BAD habits. Why does sleeping late come to my mind first? I feel that I am a morning person, but not TOO early! I like to ease into the day, have my coffee, go for a walk.
But I read this article that states ten reasons why you should wake up early. Some of these are: using their morning quiet time for organization, goal-setting and planning out their days and weeks ahead, exercising because it boosts mood and fitness, and provides energy on the job, morning people exhibit character traits like optimism, being agreeable, satisfaction and conscientiousness, and quality time in the evenings to spend with family. Instead of bringing work home, you can relax and unwind. That is sooo important!
I am also late. Tardy. Pretty much inexcusable. It's all about not planning out how much actual TIME it will take to get somewhere. I chronically UNDERESTIMATE how much time it will take me to get to an appointment (I see you with your hands up!). But I do dislike it, so I am going to remind myself to work backwards to get the right amount of time to be where I need to be (i.e., I need to be at school at 9:00. The drive takes me 15 minutes, walk dog? 20, shower, 15, makeup, 15, dress/gather belongings, 15. Get up at 6:30.) Does anyone else work that way? My husband would say it's because I'm left-handed and do everything backwards…
Finally, scheduling my workouts, which includes my dog walking. Mia LOVES to walk in the morning, so that's first on the list. And now that I'm am teaching again I need to work my exercise classes into my day so I don't miss them.
Perseverance will melt those unwanted pounds! It's easier with a plan, right?
Here's to conquering your bad habits!
Essential Oil: Coriander. Such a versatile oil! Health benefits include improving appetite and aiding in digestion, helps eliminate excess gas from the body, relives nervous cramps, and helps maintain good stomach health. A must for your medicine cabinet!
To order or explore Young Living's oils, click HERE
As always we'd LOVE to hear your take on our blog! We're here Tuesdays and Fridays. Weekends are mostly spent looking for new adventures. Please comment below, or subscribe and we'll go right to your inbox! If you enjoy our blog, please Follow (blue button) and give us a Like! Thanks!