Lezlie's take:
Has everyone now heard of Marie Kondo? No? She's the little Japanese lady with BIG ideas about how to get rid of things that don't "spark joy". I have read her book, "The Magic of Tidying Up," and she tackles what (almost) everyone hates–clutter! When I see stuff, like in my neighbor's garage, or knowing that they "had" to build that storage building on their property, I cringe. How much, pray tell, do we really need?
I have never been a "saver." I am the one who throws things away and then realize I need it later. I realize that there are many things that you just don't want to tackle–your closet, your attic, your junk drawer (go here to watch the hilarious video of Jennifer going through hers!). I felt the world lifted off of my shoulders when I traveled to Europe the first time with ONE suitcase! And, believe me, I've never looked back.
I was at my in-laws this weekend and, well, let's just say they had better not call me to help organize the mess there when Jesus calls them home! I will just throw everything in one big box. It was hard enough at my mom's this past summer. Mimi had a lot a beautiful things–but what to do with it? If it was not your taste then it would be hard to bring it home "for posterity's sake." As it is I have half a garage full of things I couldn't part with! Rick was upset that I was not going to be able to park my Jeep in the garage in the usual spot, but I assured him it was only temporary. Well, we'll just see how temporary it is! I am still looking for my ideal house in which to put all of my treasures (now I really sound like an English teacher!). But it will fit everything just so and I will not have any clutter! [I wish]
So do yourself a favor and get rid of all of the things that are dragging you down. Get real! Do you really need all of that stuff?
Allison's Take:
Essential Oil:  Coriander.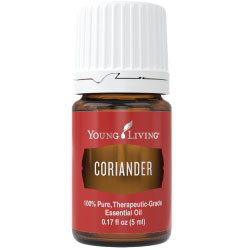 Who knew that it is from the Cilantro plant? I love that! It has a sweet, warm, herbaceous fragrance with calming properties. It also soothes an upset stomach and promotes digestion. Diffuse with bergamot and grapefruit for a tranquil atmosphere.
To order or explore Young Living's oils, click HERE
As always we'd LOVE to hear your take on our blog! We're here Wednesdays and some Saturdays. Weekends are mostly spent looking for new adventures. We'd love to hear your comments on our posts! If you enjoy our blog, please Follow us (blue button under the wine glasses) and give us a Like! Many thanks!